Click any picture for bigger version!
Kitchen completed June, 2007
The countertops are soapstone which we purchased in slab form from M. Teixeira (http://www.soapstones.com). I cut and fitted them in the driveway using a circular-saw with a masonry blade, and paid the neighbors lawn guys to help me carry them into the house.

The cabinets and beadboard I built of Douglas Fir. The floor, and the wood for the rolling island, are Birch.

The cabinet knobs are partially flea market finds (generously donated by my uncle and aunt), and partially fished out of an old box in my parents barn.
The "farmhouse" style sink is the original 1926 stationary-tub from the basement. It's solid porcelain and in great condition. The other sink is a modern enameled cast-iron model.




UPDATE SPRING 2010: The heavy-duty mixer, in a freak bread-making accident walked off the counter and smashed the sink. It was sickening... but stuff happens. We had the

M. Teixeira folks build a replacement. Click the two thumbnails below to see the "after" shots.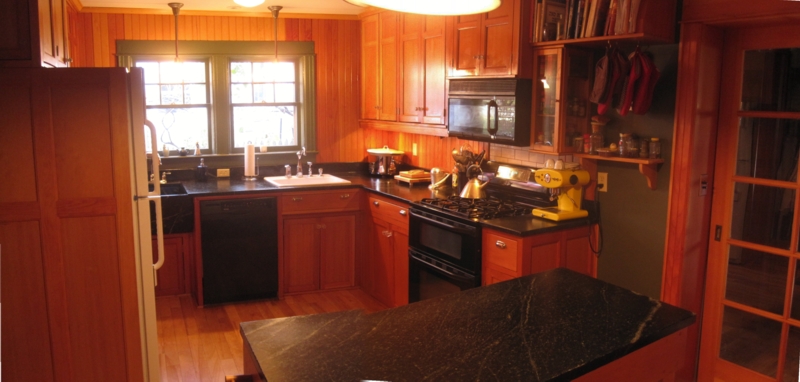 That's the door to the basement and mudroom. To the left, is the swinging door to the dining room.
The cabinets at the far end of the room are double sided. They connect through to the dining room buffet on the other side of the wall:
Click here to see it from the dining room
That tall cabinet on the left-hand side of the back wall contains my old laptop for the kids to use as a workstation.